Bronze Lamp with Bent Handle
Source:
Henan Museum
Edit:
acf
Time:
2021.11.25 16:24:55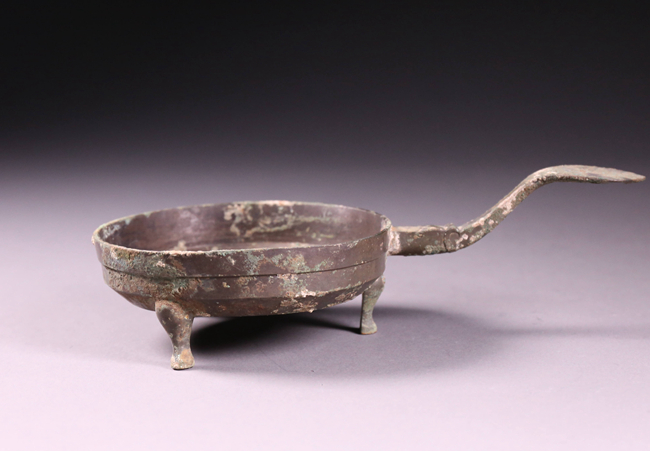 Period: Han dynasty (206 BCE--220 CE)
Measurements: Plate Dia. 14.3 cm, Length(handle incl.): 27.1 cm, Height: 5.6 cm
Provenience: Unearthed at Houshiguo village, Xinmi, Zhengzhou, Henan, 1962
Provenience:Purchased in 2001

Rising from three short legs, the lamp features a form of bowl with a flat bottom. A bent handle with a design of a beast's head is attached to the side above one leg. In the center of the lamp is a spike serving as the candle holder.

In Han dynasty, there was a great variety of lamps, with which attention was also paid to the artistry of appearance and not practicability. Apart from the simple shapes of the daily utensils, such as Dou vessel, plate, Ding cauldron, Gui vessel, cosmetic palette, etc., there were other forms of human and animal figurines, displaying rich characteristics of the times and cultural connotations. The lamps in the shapes of the auspicious animals and birds implied the good wishes of the Han people for happiness. The feathered man and divine beast reflect their pursuing for immortality and ascension to godhood. By combining the practicability and artistry, the Han lamps are not only practical utensils, but also fine artworks, fully embodying the wisdom of the Han artisans.