Divine Beast Tianlu with Carved Linear Designs
Source:
Henan Museum
Edit:
acf
Time:
2022.07.07 16:00:12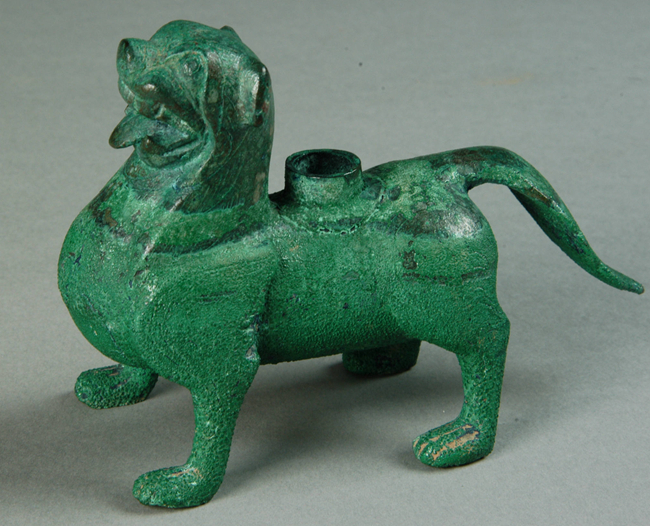 Period: Han dynasty (206 B.C--220 A.D)
Measurements: H.10.5 cm, L. 15.5 cm
Provenance: Unearthed from the Hoard at Jiahetun Village, Jiaozuo, Henan, 1989

Of a standing posture, head raised high, eyes opened wide, tongue sticking out, tail drooped, a tubular hole on its back connecting to its abdomen. Overall, it was fully covered with carved fine linear designs, and in green color due to corrosion.
 
As an auspicious mythical beast in ancient China, Tianlu, also known Tianlu (lit. Heavenly deer), features a bizarre appearance, it resembles a deer, but has a horse's tail, a single horn, and wings, it is unparalleled powerful. In ancient times, Tianlu was normally deployed to safeguard the gate of the que buildings or divine passageway to the tomb for the purposes of warding off the evils. Deer was deemed as the emblem of longevity and auspiciousness in ancient China, in addition, deer is a homonym for salary, thus it conveys wishes of auspiciousness and wealth.

Apart from the present Tianlu, a five-phoenix incense burner, and a seated bear-shaped lamp were also found in the hoard, they were elegantly crafted, with realistic appearance, ingenious planning, therefore they are all the masterpieces of the Han dynasty bronzes, and they are not only the practical daily utensils, but also serve as ornamental objects, thus they are rare artifacts among the unearthed Han dynasty bronzes.