Green Jade Gui with Linear Pattern
Source:
Henan Museum
Edit:
acf
Time:
2021.09.27 16:03:15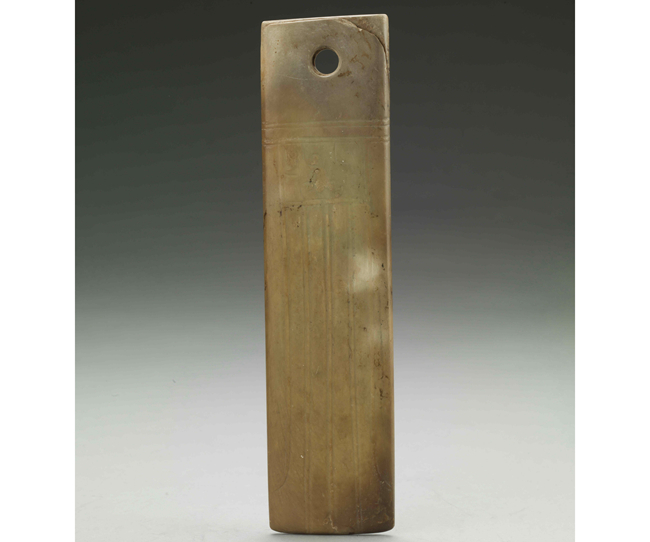 Period:Shang dynasty (1,600--1,046 BCE)
Measurements: Length: 19.6 cm, Width: 4.9 cm, Thickness: 0.9 cm
Provenance: Unearthed M5 of Fuhao tomb, Anyang, 1976
This is a ceremonial object from Fuhao's tomb in Anyang.

Most of the wooden coffins, no matter the inner one, or the outer one, had decomposed, the ceremonial jade objects, such as Bi disc, Huan, Gui, were found all around inside the coffin, with Huang is the dominant, there are as many as 60 pieces, just a few Gui tablets.
In yellowish-brown tone, the Gui, in the form of a tablet, with flat top and flat edge. Squares were carved near the top on two sides with variant cloud motifs inside. Five juxtaposed groups of vertical lines were incised on the surface. There is a hole at the lower end.
As many as 755 funerary jade objects in diverse shapes were unearthed from Fuhao's tomb at Yinxu, Anyang, they are representation of the jade consuming practice for the elites during the late Shang dynasty, and the embodiment of the highest level of the jade craftsmanship of Shang dynasty.