Folding fan with painting of mountain residence along the ravine stream by Shen Zhou
Source:
Henan Museum
Edit:
acf
Time:
2021.05.14 17:40:36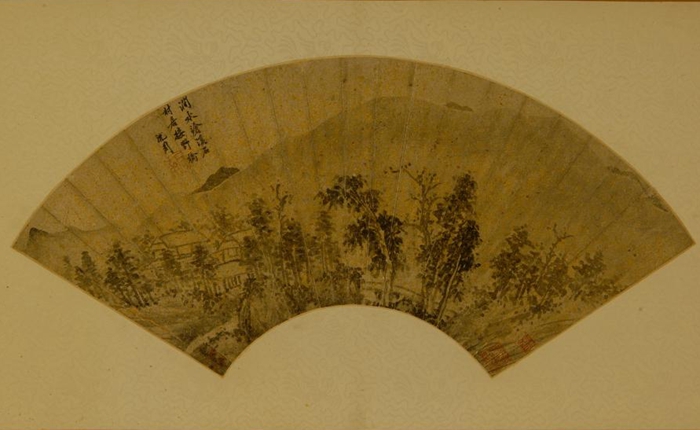 Period: Ming dynasty (1368-1644)
Measurements: H:18.5cm,W:51cm
Provenance: purchased in the antique shop at Liulichang, Beijing, 1963

Shen Zhou(1427--1509), courtesy name Qi'nan, art name Shitian, and Baishiwong (lit.white stone old man) in his late years, a native of Changzhou (present day Suzhou), famous painter, calligrapher, litterateur, and medical scientist of Ming dynasty, as well as the founder of the Wu School painting. In his whole life, he stayed at home for reading, composing poems and painting, living a leisure and free life, at the same time, seeking the spiritual freedom, he had never taken part in the imperial examination, or became the civil servant, thus he lived a pastoral and reclusive life for a lifetime.
On the folding fan, Shen Zhou depicts the beautiful scenery of rural life in the mountains with small scale paintings. The mountains in the distance and the trees, rocks and ravine streams in the vicinity matched perfectly with each other. On the upper left, there is the painter's inscription of two verses of Five-Character poem, "The ravine water splatters the stream rocks, village houses adjacent to with bridge in the wild", followed by his signature Shen Zhou, a seal of "Qinan", and two collector's seals of "Xi Zeng" and "Li Tong Cai Ding" on the lower right corner.