Celadon granary jar with pavilion and figurines
Source:
Henan Museum
Edit:
acf
Time:
2021.05.14 17:35:56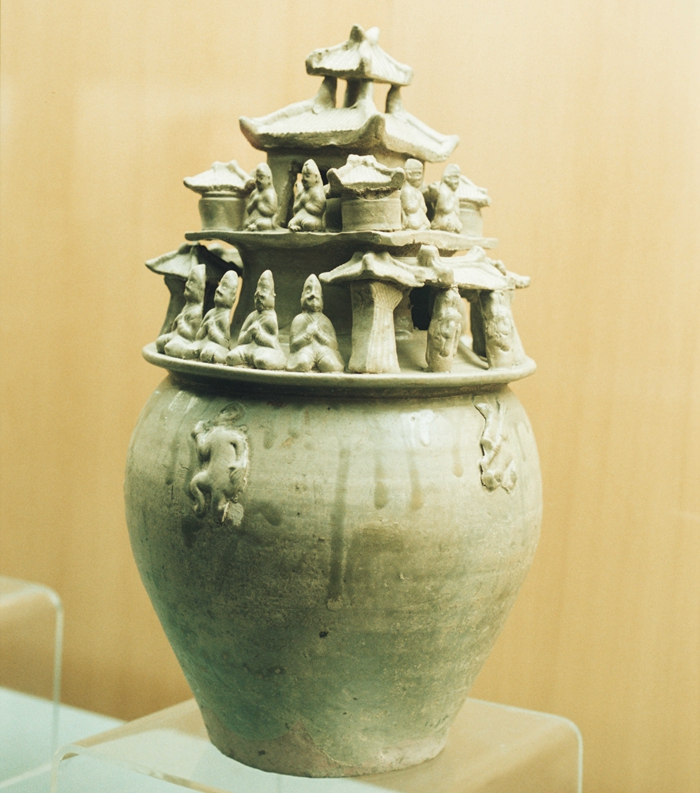 Period: Western Jin(265--317 CE)
Measurements: H. 46.3 cm, Bottom Dia. 15 cm
Provenance: Acquired in Tangyin county in 1951

The jar comprises of two parts, the upper and the lower portions, the upper portion is characterized by two storied pavilion, juxtaposed with complex sculptural assemblages as the adornments. In the center of the upper portion stands a building with four ques and four kneeling figurines standing at its four corners; and another four ques also stand at the four corners of the lower floor, with two memorial archways at two sides, another two sides with two kneeling figurines respectively. The lower portion is a jar adorned with appliqued figurines and dancing figurines. It was fully celadon-glazed, with a flat bottom.
The granary jar, also known as grain granary, funeral jar, hunping(spirits jug) , is common burial goods during the Eastern Han to the Western Jin period, derived from the five-joint jars of the Eastern Han dynasty. The complex sculptures include buildings, birds, fauna, musicians, dancers, and acrobats, etc., focusing on the manor-style buildings and the luxurious life which the wealthy and aristocratic families lived during their lifetime.