Paying homage to history and memories
Source:
河南博物院
Edit:
Chend
Time:
2019.07.08 09:47:04
Views: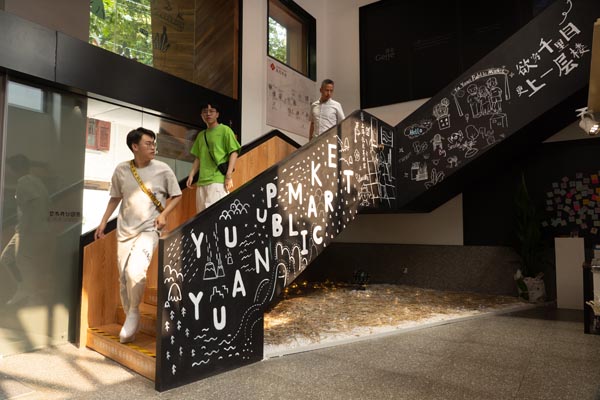 By Lin Shujuan | China Daily | Updated: 2019-06-28 07:56 
 
Young visitors spend their leisure time on the lawn in front of the newly renovated Yuyuan public market. The Shanghai municipal government aims to preserve old buildings and improve residents' living conditions with its urban renewal efforts. [PHOTO BY GAO ERQIANG/CHINA DAILY]  
Urban renewal efforts in Shanghai have taken on a new focus in recent years, with authorities keener to preserve buildings than replace them with new, modern alternatives, Lin Shujuan reports.

Urban renewal projects have become commonplace in Shanghai over the past few years. But instead of seeing new glittering skyscrapers being introduced to the landscape, residents have been heartened to see that authorities are more eager to retain the integrity of the city's past.

One such resident is 66-year-old Huo Bai, who has been living in Shanghai's Qishan neighborhood in Changning district since he was born.

"I have lived here my whole life and gone through the changes of the times. I'm happy to see that the renovation efforts have restored the old homes. Those who used to live here were amazed at the scene when they returned. It was as if they had traveled back in time to their childhood," he says.

Located on Yuyuan Road, a century-old street in Shanghai, the Qishan neighborhood covers an area of 22,000 square meters which is home to a cluster of old residential structures built between 1925 and 1930. The buildings in this cluster stand out from those around them as they have a unique architecture that features three-story conjoined houses with independent gardens.

As part of urban renewal efforts, houses in Qishan neighborhood were renovated last year. Roofs and building facades were repaired, load-bearing structures were reinforced, and improvements were made to the water and drainage systems.
"There were many security concerns before the restoration. The beams of the houses were unstable and had many holes in them. They looked just like honeycomb. Because the floor and roof of all these homes were made of wood, fire safety was a big issue," Huo says.

"But now these problems have all been solved. Beams were changed and firefighting systems were installed. We also learned how to use a rope to escape from the house in the event of a fire. We really appreciate the efforts our government has taken."

This new focus for urban renewal was officially introduced in 2017, when the Shanghai municipal government issued a guideline aimed at preserving old buildings and improving the living conditions of citizens. According to the municipal government, old residential buildings in Shanghai currently take up 160 million square meters.

"Historical architecture embodies the memories and cultural spirit of a city-they must be protected. The preservation of these old buildings is a way of showing respect for the city's history," says Zhang Jun, an associate professor of sociology at Tongji University, who sits on the advisory board for Shanghai's urban renewal projects.

Just a few minutes walk away from Qishan neighborhood is Hongye Garden, another old community that was built in the 1920s. Here, convenience stores, snack bars, locksmiths, tailors and shoemakers can be found in the newly established community market. Since its opening in February, many visitors have come here to experience the unique local culture and take photos.

"We have always put residents first, frequently consulting with them and then making decisions on the basis of improving their quality of life," says Fang Wen, general manager of Chuangyi Creative Inc, who is responsible for the design and renewal of Yuyuan Road.